Ralph E. Cole – Board Chairman
Business Manager-Secretary Treasurer Laborers' District Council
Dave Coniglio
Director Labor Relations & Safety Affairs Ohio Contractors' Association
Jim Chamberlin, Jr
Miller Cable Company
Anthony Liberatore, Jr
Business Manager Laborers' Local 860 Cleveland, Ohio
Mark Potnick
OCA Consultant
Gary Bretz
Business Manager/Secretary Treasurer, Laborers' Local 574 Marion, Ohio
Alex Shaw
Shook Construction
Clint Powell
Business Manager, Laborers' Local 809 Steubenville, Ohio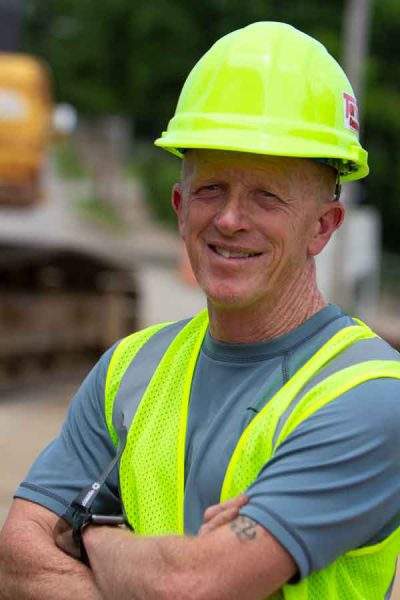 In 1995 the Laborers' District Council of Ohio and the Ohio Contractors Association laid the groundwork for Ohio LECET. The concept was one of cooperation, that Laborers and Union Contractors had to find ways to promote the highway construction industry and the role played by Union contractors and Union Laborers.
Since then, LECET has participated in the legislative passage of new gas taxes, project promotion with our contractors, prevailing wage enforcement, and other efforts such as our Work Zone Safety Campaign.
LECET's most important mission is helping Laborers' Local Unions and the contractors with whom they work win projects and jobs. Its innovative Cooperation Trust Tracking System (CTTS) keeps tabs on tens of thousands of construction projects throughout the United States and Canada. LECET and its affiliates alert Laborers' Local Unions of upcoming projects, giving Laborers and their signatory contractors time to prepare a bid, assemble a workforce, and win the work. While Laborers are working hard on current projects, LECET is hard at work identifying future project and job opportunities.
promoting the union sector
Laborers are proud of their work on structures and projects throughout North America. LECET and its affiliates promote the image of Laborers in industry trade publications, at trade shows and job fairs, and through a wide variety of marketing materials. Whether in the pages of Engineering News-Record, on television and radio, or in marketing and recruitment materials, LECET and its affiliates convey one simple message: being a Laborer means being devoted to quality, training, and safety. Laborers want to see LIUNA's values and ideals carried into the next generation. LECET helps make that happen by working with LIUNA and signatory contractors to recruit tomorrow's Laborers today. From meeting with high school guidance counsellors to developing youth-oriented recruitment materials to engaging in mentoring and school-to-work programs, LECET and its affiliates are reaching out to young people who like to work with their hands, have good work attitudes, and display an aptitude for construction. LECET also recruits skilled and experienced workers away from non-union contractors. In addition to securing LIUNA's future, these recruitment efforts help develop the workforce signatory contractors need and want.
staying prepared in changing technology
Construction is constantly changing, and LECET helps Laborers and their signatory contractors stay current. LECET looks down the road to determine where the industry is going, and what Laborers and their contractors will need to do to stay out in front. The LIUNA Training and Education Fund uses LECET's market analyses as it develops training programs that keep Laborers up to date and safe on the job.The result? Positioning Laborers and their signatory contractors to make the most of the future.
a voice in the halls of power
Everyday, elected officials and government regulators make decisions that can directly affect construction in general and/or specific projects. LECET and its affiliates work with industry groups and coalitions to make sure key policy makers hear a labor-management voice on issues of concern to the entire industry. LECET is a key player in many market-related legislative and regulatory efforts.
That project is your baby and your headache. Pull it off well, and you're a hero.Pull it off poorly, and you could be out of a job. When so much is on the line,you want contractors, subcontractors, and workers on whom you count. You want people you can trust, people who won't let you down, people who solve problems instead of creating them. That's why you want Laborers and their signatory contractors. They know how to do the job right, on time, every time. They know how to work safely. They can even help you move potentially controversial projects through tricky political waters. That's all a part of doing business with the Laborers and their contractors.
message to the open shop sector
We're not here to give you a hard time. We see you as prospective clients, and we want your business. We're confident that when you look at what LECET, LIUNA, and the Tri-Funds have to offer signatory contractors, you will want to work with us. You'll want to work with us because we'll help you research markets, develop new business, win projects, enhance your competitiveness, and increase your bottom line. Not to mention the well-trained, highly skilled Construction Craft Laborers who do the job safely,on budget, and on time, every time.